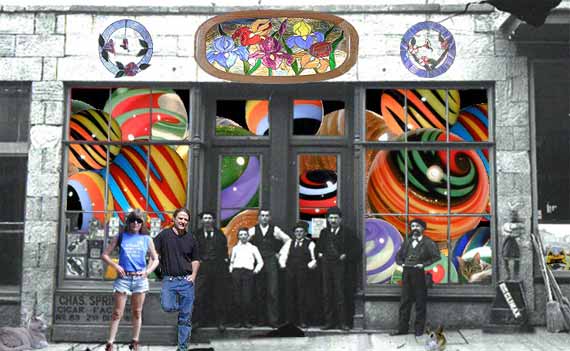 Here at sirius sunlight we get to play with art glass, stained glass, marbles, glass icicles, Christmas ornaments and much more. Please have a look around our website and maybe drop by our online store and purchase some of our art glass for yourself or for a gift.
If contemporary marbles are your thing, please take a look at siriusmarbles.com and sign up for the sirius marbles mail list to be informed about Chuck Pound's upcoming marble sales and auctions. Check the Sirius Marble Gallery for examples of Chuck's work.
You can find our shop in Mineral Point, Wisconsin. We are open most days but you might want to give us a call if you are traveling far, just to be sure! Take a look at the MineralPoint.com website for more information about what Mineral Point has to offer. Small town living at it's finest!
Thank you for visiting our website!

Jill Engels and Chuck Pound
A limerick to enjoy, if you like math you should see this one.